2/3 teams with the best defensive record in 19/20 Premier League season have already conceded a third of their entire total of last season. Manchester United and Liverpool FC. The league has thrown up a few bombshells so far, with both these sides allowing 6 & 7 goals against Jose's Tottenham Hotspur and Aston Villa respectively.
Subjectively, I am not entirely surprised Manchester United are in a position of fragility, which I laid out in this piece I did for OverSaturated: Narrowing in on Nothing. Liverpool's result, however, was unexpected. Last week Jurgen Klopp had a fair amount say after he heard Roy Keane labelling their defensive performance as "sloppy". Well, "sloppy" seems like awfully kind analysis of their showing against Villa.
Beyond that, We have Ancelotti's reawakening Everton. There is a discernible improvement in their team spirit and and progressive output. Domic Calvert-Lewin has added goals to his armoury, Allan and Doucoure providing grit, industry and intelligence in front of their much improved defence, and lastly the exhilarating James Rodriguez who has significantly increased Everton's the attack , and subsequently their expected goals (xG) ratio – a metric that rates the probability of a scoring chance resulting in a goal from 1.4 to 2.4 – Displaying the obvious improvement in chances created.
Perennial Pretenders

Nelson Mandela once said: "The greatest glory in living lies not in never falling, but in rising every time we fall.", A mantra I believe Liverpool exhibited following their 18/19 campaign. In the wake of finishing the season 2nd, winning 30 games and losing 1, total of 97 points, 1 point behind Manchester City. The following season, in strenuous circumstances, they went on to win the league with 99 points. But personally, they were the best runners-up I've seen.
"I have learned that when you think you have reached the pinnacle, you are already on the way down. We don't feel that. I didn't feel satisfied." Klopp said.
Currently, the disparity between 1st and the rest of the league look(ed) bigger than ever, the caveat to that is, albeit Liverpool being spanked by Villa, Liverppol still has the mental fortitude to bounce back & I believe they're the best in the league by some margin. Klopp has remodeled his squad without really spending big and when the players are asked be brave and bold they're unstoppable. Liverpool at their peak, when they have the handbrake down, going full throttle and taking initiative is one of the best teams in the world. Thiago and Diogo Jota have added another dimension in breaking down teams with a low-block, especially the former with his creativity in the midfield. There is still an evolution taking place at Liverpool both in personal and tactics, and I'm not expecting them to rest on their laurels.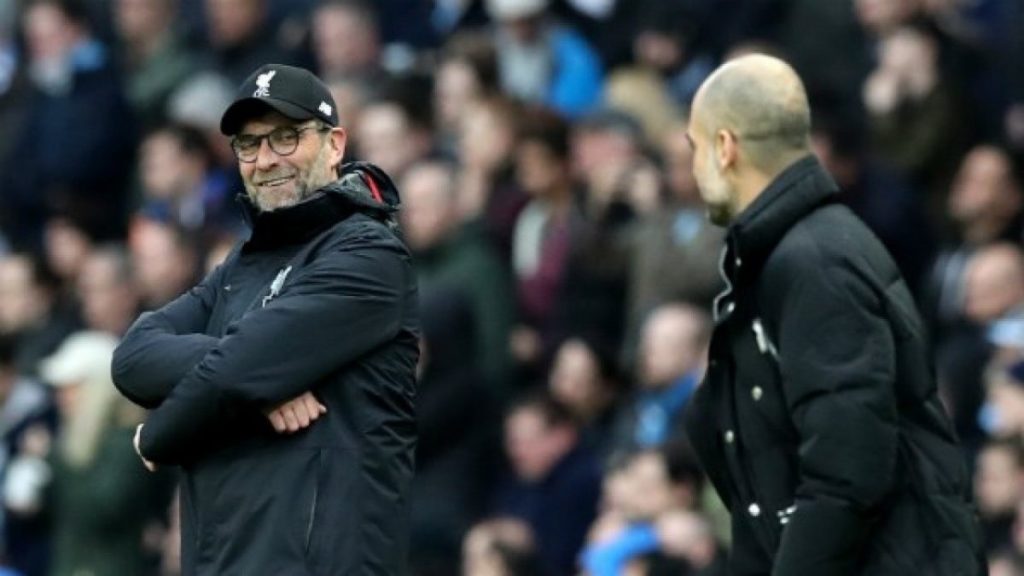 Manchester City 34.3%
Manchester City at the moment seem like a shadow of their former-selves. The Leicester defeat suggested that they don't look much better equipped this season. But they are, of course, which only compounds the exasperation. You look at the quality in the squad and only wonder how they haven't challenged more efficiently.
Bredan Rodgers post-match interview after his side 5-2 win against City captivated me as he laid out the blueprint to rattle them. A contrasting approach for a manager who's philosophy lies within proactive attacking football.
"They're such a great team that they want to go into the pockets between your lines," the Leicester manager said. "And obviously the higher you press against them… they have an incredible technical ability, sometimes you cannot pressure players like that. The ball is gone and they go and exploit the space that you've left"
"People will not have seen too many of my teams play like that, but I felt for this game, it was important from a tactical perspective to just take the keeper out of it. Ederson could play at centre-half for some Premier League teams, he's that good with the ball, so we just decided to get into a three-quarter to half-pitch shape , just deny the space and then when the counter-press comes, do we have then the quality to pass out of that and be away on the break? And thankfully we were able to do that with real quality this afternoon."
However, the cloud of negativity around them is misplaced. City are very good and have a world-class manager in Pep Guardiola. They've added decent defensive reinforcements in Dias and Ake on-top of the world-class players in their squad. Once the sick-bay clears up they'll be back to racking up wins.
Chelsea 31.4%
Frank Lampard. Chelsea seemed to be destined to finish 3rd in my eyes, as a result of the evident individual quality they've purchased. Lampard seems to be desperately searching for the right cohesion in his first Xl, and once the majority of players are back fit, he'll find it. They now have one of the most prolific goalscorers in Europe and two of the most talented creators in Ziyech and Havertz, goals should not be a problem. Chelsea could've done with another midfielder who can operates as a defensive midfielder, and can function as a central midfielder if called upon. Declan Rice would've been the perfect addition for Chelsea, Not only does he cover the pitch so well, but he also does it smart, always ensuring that there is some benefit to where he is on the pitch. From there, he will often receive the ball, because he is in such a good position, and progress it through carries or a pass.
But if Lampard wants to compete with the very elite again, he needs to make the team less vulnerable in & out of possession, Compared to the very best sides in the league. City and Liverpool are consistently successful at bypassing deep-lying defences, and aren't particularly vulnerable to easy counter-attacks that hurt them (although this is slightly changing in recent time) Chelsea are often to passive against low-blocks and busted wide open when they concede possession higher up the pitch.
The question whether Frank Lampard has the tactical acumen to rectify this, remains to be answered.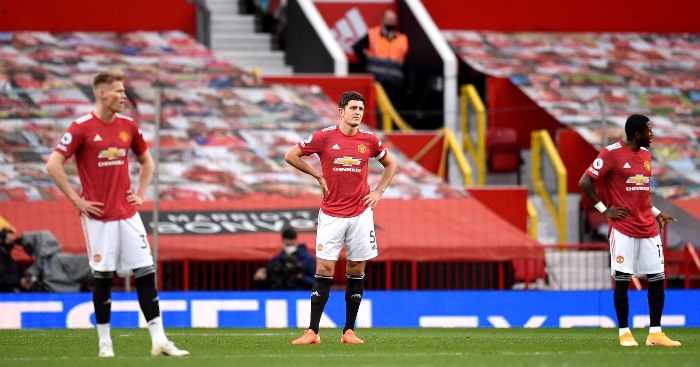 Manchester United 28.6%
Boy. Where to begin? Same story , different summer. United have lost twice and stole a victory at Brighton thanks to the woodwork and a dramatic 100th minute penalty. They have been outplayed by all 3 of the opponents they've played this season and the disastrous defending has becoming truly hopeless. United have a good squad. A squad easily capable of finishing in the top 4 in this current climate, but you look towards the coaching staff and its extremely worrying. Better coaching is needed, throwing money at the situation wont solve everything.
Kieran Mckenna. There were multiple reports previously that players aren't convinced by the 33-year-old. Mike Phelan who was instrumental during Sir Alex Ferguson's spell in charge, helping mastermind five Premier League title triumphs, but after spells at Norwhich, Hull City and Central Coast Mariners, how adept is her to manage these group of players? I could go on forever. There needs to be better coaching. If your look at London for example, Arteta is extracting a lot form an objectively average squad. Ole's need to do the same, and if he's unable too, get Pochettino on the phone.
In came Cavani, Amad Diallo, Pellestri & Telles, which in hindsight isn't a terrible window. But, none of the main concerns where addressed.
At the rate they're going, they'll be lucky to finish in the top 8 (prove me wrong, please)
Everton
Wow, just wow. Ancelotti has significantly improved their defending, and they're extremely comfortable in possession. Everton has the best passing accuracy in the league at 86% up form the 78% of last season which makes the best ball retainers in the league so far. Their attack at the moment would disturb any defence and Klopp will be immensely worried.
Their goal to game ratio stands at 2.7 and shots per game 14, with an outstanding conversion rate of 19.1% and James defying critics taking storm like a duck to water. In an unconventional season like this I wouldn't be surprised if Everton finish in the Top 4.
Or, dare i say.. win the league.
Tottenham Hotspurs 5%
I wasn't too surprised these were the bottom clubs. Although I must admit Mourinho has made Mourinho-esque signing which has the potential to shake a few things at the top. Holberg is a quality midfielder and with the re-introduction that has potential to be a fine partnership. They have depth on the flanks and Gareth Bale coming home will be the icing on the cake.
Its likely that they'll finish in the top 4 Kane & Son will score goals, but their defence seems at risk.
Arsenal
The ability to excite with wonderful quick (counter) – attacks, with loads of quality further forward. Partey will drastically improve their midfield,He commits an average of 15 successful defensive actions per 90, winning 62.4% of his general defensive duels, 60.19% of his aerial duels, and 76.57% of his ground duels. He also commits a total of 4.82 interceptions per 90, on average. It will take a while for him to adjust to the drastic difference in formation, tempo, and style of play, plus he's has been playing under Simeone now for a little under five years.
Gabriel stylistically looks like he'll fit right in and to the credit of Arteta, he has developed players such as Holding, Ainsley Maitland – Niles and Saka. However, I still worry about their defence against the better sides.
Under Arteta, Arsenal have the possibility to develop into perennial winners provided he's backed financial and given time. But for now, I think they posses an outside chance.
In conclusion, it wouldn't any fun without me embarrassing myself with some early predictions. So here we go:
1.Liverpool
2. Manchester City
3.Chelsea
4.Spurs.